Course details
«Banquet plan» Food 8 items 5000 yen (tax included · 4 people ~ course) Course ★ 2H All you can drink separately (+ 1500 yen)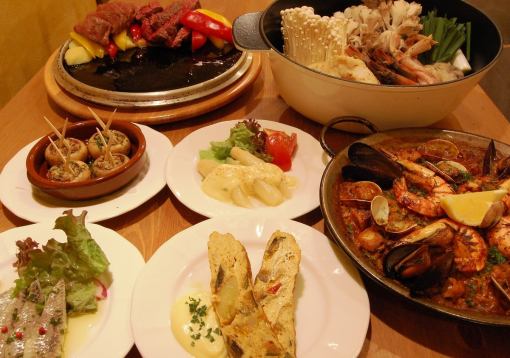 By using a coupon5000 Yen
All you can drink + 2,000 yen or 1500 yen
All-you-can-drink available

When using the course, you can use the 2 H all you can use additional.
Available days for reservation

Monday - Sunday - Public holidays - Holidays
■ 3 chefs of Spanish creative tapas ■ 2 gorgeous stone grilled steaks (beef rib steak, ibelico pig, 2 items out of beef fillet) ■ Spanish pot with seafood a lot ■ Selectable paella (you can choose from the menu) ■ Dessert
Course menu
■ 3 Spain creative tapas
(One dish product, three luxurious chefs that the chef produces only for customers)
■ Steak in a crimp
■ Gorgeous stone grilled steak
(Beef ribulose, iberico pig, beef fillet, 2 items from inside)
■ Selectable Paella (You can choose from the menu)
■ Dessert
The creative tapas can taste the luxurious dish (4 items) that changes every time you make a reservation !!
Fish, meat, paella and volume full scale course has become!
In addition, as long as 5000 yen course, both the stone grilled steak and the steak of Pinus thunberg are enjoyable course !!
※ When you make a reservation, please inform us whether you wish for steak, paella · drink all you want
All-you-can-drink menu
·beer
· Kirin's best squeezing
·Cocktail
· Gin tonic / Jimbak / Jim Ricky / Malibu Milk / Malibu Coke / Malibu Milk / Molding Commuter / Screwdriver / Salty Dog / Red Eye / Shandigafu / Keel / Cassis Orange / Cassis Oolong / Cassis Soda / Kiel Royale / Black Lucien / Kalua Milk
·whisky
· Rock / Water split / Soda
· Shochu
· Rock / Water split / Soda
·Soft drink
· Coca · Cola / Orange Juice / Mango Juice / Ginger Ale / Grapefruit Juice / Tomato Juice / Oolong Tea
· ※ All you can drink premium (= 2000 yen) only
· Glass wine (red · white) / raw sparkling (white) / cider (sparkling of apple)
Coupons that can be used with this course
2018/10/30 update